Our annual Christmas Bazaar will held on Saturday, December 2, 2023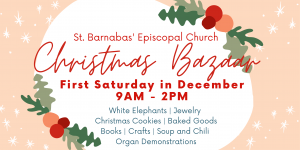 9 a.m. to 2 p.m.
Cookies, Baked Goods, Soup and Chili
White Elephant
Used Books, games and DVD's
Crafts
Jewelry
Gift Baskets for Sale
Serving hot lunch from 11 a.m. to 1 p.m.
All are Welcome!
Delegates from St. Barnabas joined other Episcopalians from all over Delaware at the 239th Annual Convention. St. Barnabas' Becoming Beloved Community Ministry also submitted a quilt square for the Racial Justice and Reconciliation Commission's Justice Quilt Project. 
Fr. Kenn, Martha De Luna and Deacon Bruce Richards performed music during the Eucharist. Photos taken by Cynde Bimbi. 
The church office is open Monday through Friday from 10 a.m. to 3 p.m.
For pastoral care emergencies, call Fr. Kenn at (520) 561-1852