Raising children of faith
Anyone in grades 5-12 is invited to join our youth groups. The Youth Groups meet twice a month on Sundays for fun, friendship, games, silliness, Jesus, and of course snacks! Junior Group is for grades 5-8; Senior Youth group is for grades 9-12. Sometimes our main event is a project, like purchasing and wrapping presents for the Highlands students, and sometimes its an evening of sledding! Or getting lost in a corn maze. Or playing whole-church hide and seek, capture the flag, or pew aerobics. Or leading the church in a contest to bring in the most goodies for the mariners of the Seaman's Center at the Port of Wilmington. All are welcome, bring a friend!
Each year, for a week in the summer, the Youth Group (grades 7 – 12) ventures out on a Workcamp mission trip to make home repairs. We serve elderly, disabled, and low income residents. How many teens do you know who has (along with 5 strangers on their work crew) installed a wheelchair ramp in a week, at a stranger's house, 500 miles from home, ate school cafeteria food, showered, and slept on the floor of a high school for a week – all in the service of Christ? Needless to say, by the second day, there are no strangers, just brothers and sisters serving the body of Christ. We do that!! And love serving – ask anyone!!
Youth Group is led by Sandy Witman.
---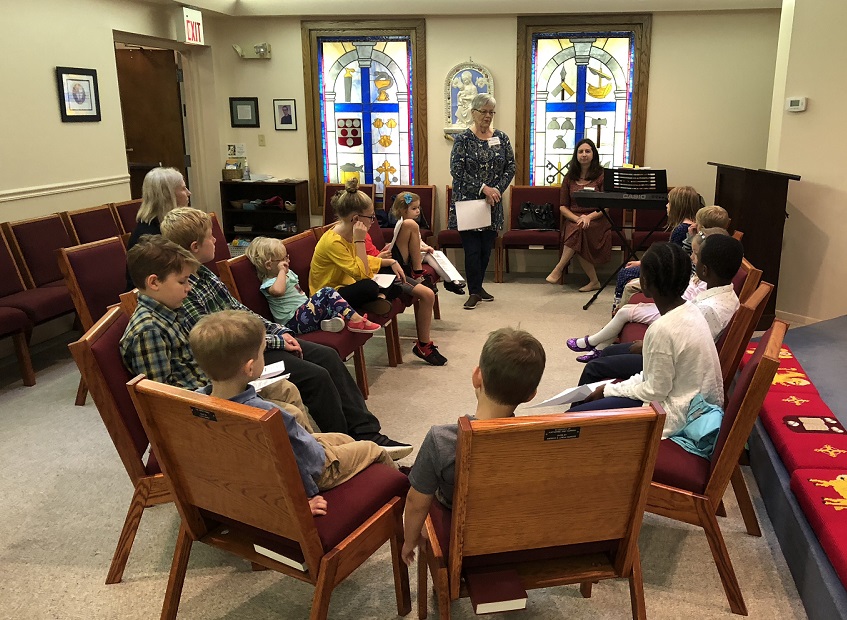 Sunday School
St. Barnabas Sunday School is available to children ages 3 years through Grade 8 beginning at 9:45 am when children gather for snack and fellowship.
Our time is precious and short as children will be joining families following or during "the Peace." One week is not dependent on another so please feel free to participate whenever you are in attendance throughout the year at St. Barnabas.
Classes are divided into three classrooms located downstairs. Classroom divisions are
3 years through Grade 1
Grades 2 through 4
---
The first Sunday of every month is designated as First Sunday and children are part of the entire service in the Church with Youth Choir singing and a message geared to all ages.
The second Sunday of the month is designated as traditional Godly Play Sunday School. Wooden figures are used to tell the stories followed by wondering time and art response time. Grades 5 through 8 use a lectionary-based curriculum as their guide and work on a community-based project during the program year.
Third Sunday of the month: Children's Chapel – Children ages 3 years and up are invited to meet in the chapel for a child-oriented service of songs, music, readings, prayers, and liturgy. Grade 5 and up students are encouraged and invited to participate by helping out with music, readings, and liturgy for this monthly chapel experience.
Fourth Sunday of the month is designated as "mission work" Sunday. Children of all ages will join us in the Great Hall to experience a ministry, craft, and participate in a "mission" to use their talents to reach out to others.
---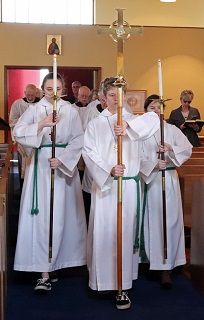 Acolytes
Acolytes help lead the worship at the 10 a.m. Holy Eucharist. Acolytes serve in teams of three or four and range from fifth grade through high school. Each fall, there is training for new acolytes and refresher training for current or previous acolytes.
.
---
Youth Choir
all children and youth ages 3 through 15 are welcome to sing in the 2 Youth Choirs (Cherub and Seraphim). No singing experience is necessary. No audition is required. We sing the first Sunday of each month during the Family Service and at the children's Christmas Eve Service. We practice on Sundays immediately after the 10 a.m. service. All that is required is a love of singing and a desire to make a joyful noise for Jesus. The youth choirs are led by our talented lay parishioners, Sandy Witman and Cara Stanard. The Youth Choir is currently postponed due to Covid. However, an inaugural video anthem from some of the St. Barnabas Children's Choir singing "I will sing to my Redeemer" is available.
Please click on the video below to watch.
Youth Choir